Florida Slip And Fall Attorneys
If you're like most people, you don't spend much time thinking about falls, that is, until you experience a bad one. Although many people associate falls with the elderly, the reality is that slips and falls happen to people of every age. Whether you're young or old, healthy or disabled, a dangerous condition in a store, office, or private home can cause a fall.
At the Schrier Law Group, we are seasoned attorneys who help people hurt in slip and fall accidents. With offices in Miami, Fort Lauderdale, Orlando, Jacksonville, and Tampa, we handle cases involving unsafe property conditions throughout Florida.
What Elements are Considered in a Slip and Fall Case?
Before considering the elements of a Florida slip and fall case, you must establish a duty of care. A "duty of care" is the legal responsibility a property owner, manager, business, etc., owes to the property's visitors. This owed duty of care includes private and public properties.
In most cases, the duty of care does not extend to unlawful trespassers. Once a duty of care is established, your Florida slip and fall attorney will investigate whether the property owner breached that duty of care. During the investigation, your Florida slip and fall lawyer will consider the following elements:
Before the accident, did the safety hazard exist? Did the property owner know about it, or should they have known about it?
Were there visible warning signs to alert visitors about the hazardous condition?
Was the injured individual on the property lawfully or illegally trespassing?
Were the injuries and damages suffered a direct result of the hazardous condition?
Did the property owner or proprietor breach their duty of care?
At a minimum, your attorney must establish these elements to move forward in a personal injury case. However, doing so is not always easy. In many cases, it's challenging to learn when the safety hazard existed, whether the accident caused the injury and if the property owner's negligence contributed to the slip and fall injury.
Overall, there are no particular rules to determine what is considered a dangerous condition. However, some hazardous conditions occur more frequently than others in slip and fall injury cases. They include, but are not limited to:
Dangerous sidewalk conditions (i.e., ice, dangerous debris, etc.)
Uncleaned liquid spills
Uneven floors
Parking lot hazards
Dangerous stairway hazards
In most cases, a property owner or proprietor is only responsible for accidents resulting from hazardous conditions that they know about or should have known about, but did not take the proper steps to fix or warn visitors.
For example, suppose a hazardous condition appears, and thirty seconds later, a slip and fall injury happens. In that case, it's not likely the property owner will be responsible for the resulting damages. However, if your attorney can prove the property owner's knowledge (or unacceptable lack of knowledge), it can be a defining factor in a personal injury case.
Most slip and fall cases require in-depth investigation, evidence collection, and understanding of Florida personal injury laws. In the next section, learn more about what evidence is needed to prove a slip and fall case.
What Evidence is Needed to Prove a Slip and Fall Case?
Generally, proving a property owner's duty of care isn't difficult. However, it can be challenging to obtain enough evidence to prove they knew (or should have known) about the hazard, and their negligence resulted in the slip and fall damages.
Evidence Slip and Fall Injury Victims Need to Obtain
Pictures and videos of the hazardous condition that lead to the slip and fall injury.
Eyewitness testimony and first-hand accounts.
Proof of injuries sustained, including pictures, videos, medical records, receipts for the cost of medical care, and more.
Proof that a prior injury or condition wasn't the cause of the current slip and fall injury.
Copies of the business inspection records.
Security camera footage showing employees who ignored the hazard and/or the length of time the dangerous condition existed.
If you've suffered injuries resulting from a slip and fall accident in Florida, it's in your best interest to begin the evidence collection process as soon as possible. That means taking pictures and videos after the accident, getting eyewitness contact information, alerting the property manager of the accident, and seeking medical attention immediately.
Further, you should also contact an attorney for slip and fall injuries. The sooner you contact your personal injury lawyer, the faster they can advise you of the best steps. In many slip and fall cases, the caliber of evidence collected and how quickly the victim contacts an attorney has a significant impact on the success of a slip and fall case.
It's important to remember that you have a limited amount of time to file an accident injury claim in Florida. The Florida statute of limitations for most slip and fall cases is four years. However, most attorneys recommend quicker action.
The longer you wait to pursue a personal injury claim, the more challenging it can be to obtain maximum compensation for your injuries.
Is the Property Owner Responsible for a Slip and Fall Accident?
Sometimes, a slip-and-fall accident is just that: an accident. Call it clumsiness or bad luck, slips and falls are an unfortunate fact of life. Most people have tripped over their own feet at some point in their life. One minute you're walking along just fine, the next minute you're on the ground. If you're lucky, you walk away with little more than wounded pride and perhaps a bruised posterior.
In other cases, a slip-and-fall injury is caused by a property owner's negligence. Furthermore, not all slips and falls are embarrassing but relatively harmless mishaps. These accidents can cause catastrophic injuries, from spinal cord damage to traumatic brain injuries. According to the Centers for Disease Control and Prevention, one in five falls results in a broken bone or head injury.
In Florida, owners and occupiers of land have a legal responsibility to look after their property and to take reasonable steps to make their property safe. When they know of a hazardous condition on their land or in a building they own, they also have an obligation to warn people about it. Failing to do these things exposes a landowner to liability in the event someone gets hurt on their property.
What are Common Slip and Fall Occurrences?
Common slip-and-fall hazards include spilled liquids, icy walkways, puddles, and ripped carpet. Falls can also happen when a property owner fails to repair cracked sidewalks, potholes in parking lots, or broken stair treads. People can also get hurt when a property owner fails to install proper lighting or repair a broken fence.
How Often Do Slips and Falls Occur?
Accident injuries resulting from slips and falls are a leading cause of hospitalization in the U.S. That's especially true for older adults. While some slip and fall accidents are due to a person's health and age, many other accidents are the result of a property owner's breached duty of care.
Slip and fall accidents happen a lot more than you might realize. Here are some other facts that may surprise you:
Over 800,000 Americans are hospitalized each year due to a fall, and 3 million older adults visit emergency rooms each year for falls.
Emergency rooms treat 8,000 children each day due to falls.
Falls are the most common cause of traumatic brain injuries.
Over 95 percent of all hip fractures happen due to falls.
Falls cost $50 billion in medical care each year.
With this information in mind, it's essential to note that the estimated average cost of hospitalization following a slip and fall injury is north of $30,000. That's not including the cost of rehabilitation, lost income while recovering, property damages (i.e., broken cell phone, glasses, etc.), and more.
What Kind of Injuries Can Someone Sustain From a Slip and Fall?
Slip and fall accidents shouldn't be taken lightly. Unexpectedly hitting the ground at an awkward angle can wreak havoc on your body. That's especially true if you're an older person. With that in mind, a few of the most common catastrophic injuries resulting from Florida slip and fall cases include:
Traumatic Brain Injuries (TBI) – Many slip and fall victims land directly on their heads or hit their heads on the way down. This can result in traumatic brain injuries, including concussions, diffuse axonal injuries (DAI), brain hemorrhages, and worse.
Spinal Cord Injuries (SCI) – Slip and falls can result in pinched nerves, herniated disks, broken vertebrae bones, and more.
Neck Injuries – Whiplash is the most common neck injury resulting from slip and fall accidents. However, in extreme cases, severe damage to the neck can occur.
Broken Bones – Our bodies are not designed to fall on hard surfaces. When an unexpected slip and fall occurs, it can very easily result in bone fractures.
Facial Damage & Disfigurement – Some slip and fall accidents lead to serious facial damage for the victims. This can include scaring, broken teeth, broken nose, eye damage, and more.
Soft Tissue Damage – Damage to the soft tissue may seem small, but it can lead to many months of rehabilitation and lost income. Some of the most common soft tissue injuries resulting from slips and falls include sprains, strains, contusions, tendonitis, etc.
In addition to the slip and fall injuries mentioned above, many slip and fall victims suffer serious bruising, cuts, knee injuries, ankle injuries, as well as injuries to their wrist, elbows, and shoulders.
Call Paul For a Free Slip and Fall Case Evaluation
If you have been injured in a slip-and-fall accident, don't spend another minute worrying about how you're going to pay your medical bills, recoup your lost wages, and manage your recovery. You shouldn't bear the burden of another person's negligence. Call 1-800-700-7285, or complete our contact form to talk with an experienced Florida slip and fall attorney today.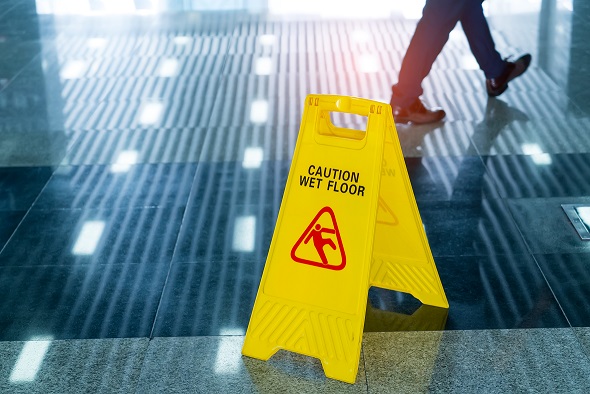 Get in Touch
Fill out the form below and we will get back to you shortly